Maine Room - DAR Museum


In one of Memorial Continental Hall's Period Rooms,
the MSODAR maintains the Maine Room, which is furnished as a colonial parlor.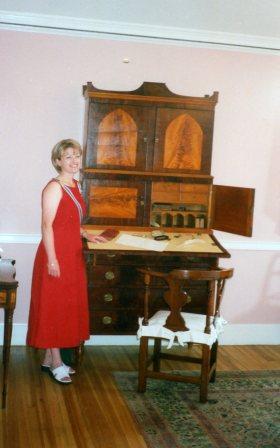 This Captain's desk was purchased in Maine and transported to our Maine Room. It was dedicated at Continental Congress, July 2002 by State Regent, Polly Bartow.

This lovely birch and mahogany

desk was made in or near Augusta, Maine circa 1830

.

It features a fold down slanted writing surface over a base of drawers. The top doors open to reveal a bookcase on the top and storage cubbies just above the writing surface. It coordinates perfectly with the birch and mahogany tall case clock purchased for the room several years ago. The desk was bought at auction from an Augusta family that had owned it for over 100 years, the most recent owner having been a member of DAR!

A photo of the wonderful sinumbra lamp as it now sits in the Maine Room. It sits on the Governor William King tea table and the table is set to entertain for tea.

This rare sinumbra lamp totally renews the Maine Room and docents are anxious to show our wonderful 1800-1830 Captain's parlor off to any and all who visit the museum.
Web hyperlinks to non-DAR sites are not the responsibility of the NSDAR, the state organizations, or individual DAR chapters.

Updated 24 AUG 2010 by Melanie Farmer